The Google APM Dropout // Late Registration
Why I'm stoked to be joining the On Deck rocketship, and how I made the last-minute decision to leave Google behind.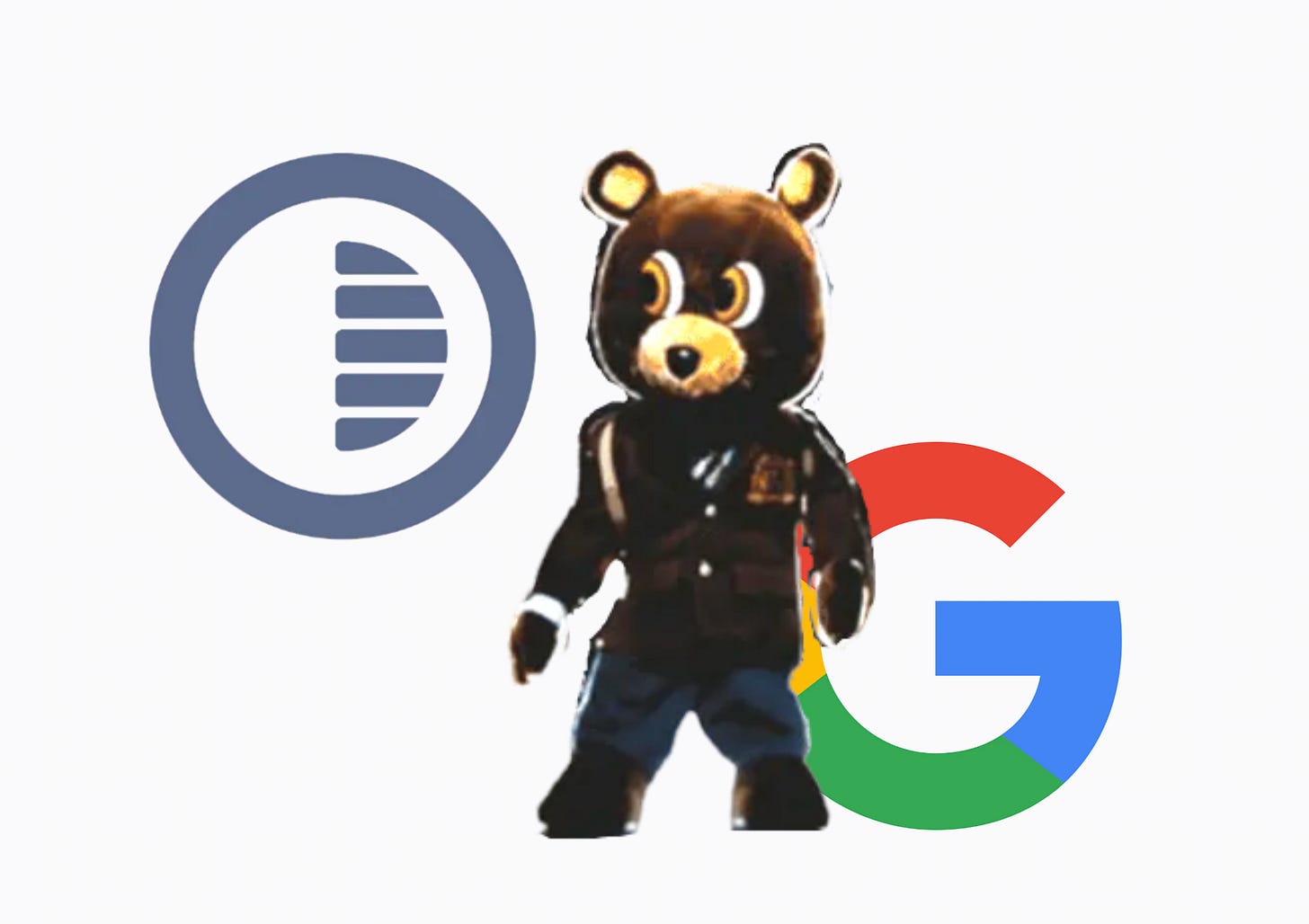 For the last 11 months, I've been dead-set on heading back to Google to join the APM (Associate Product Manager) program after completing the internship last summer.
In one weekend, everything changed in an unexpected flurry of activity— I'm beyond excited to share that I'm joining On Deck as the first hire in their Education org!
This post will dive into:
The events leading up to this point;

The Weekend that Changed Everything;

A behind-the-scenes look at my decision making process and why I'm absolutely stoked at what's to come.
I want to acknowledge upfront that I'm incredibly privileged to have had the optionality to make this decision. I'm sharing my story because I hope it might be able to help guide people's decision-making as they weigh and balance the options they pursue.
Leading up to it all— my career philosophy
This wasn't a planned process or something I was actively gunning for AT ALL.
I try to build genuinely curious relationships with the people and organizations that inspire me (usually 3-4 at any given time); believe it or not, people really respect it when you're into what they do! My recommendation is to not go in with any expectations or asks. I just think it's dope to learn from people building awesome stuff with humility and with a good dose of tenacity.
It's definitely not the easiest thing to do; lots of people don't respond or don't have the time to be helpful and engage with another curious kid. There's twangs of pain when you see all the unopened messages in your 'sent' box, but it more than makes up for itself when you get a response from a role model.
Throughout college, I tried to explore different career opportunities and expose myself to situations where I could learn; I came into Duke wanting to study biomedical engineering (how far we've come!). With each new experience, I'd learn a little more about things that I didn't like in my work, avoid those things going forward, and allow each job to paint a marginally clearer picture of a career 'north star'— my representation of ikigai. (footnote 1 for what those learnings were!)
I've never had a 30 year plan, or even a 3 year one; my desires and interests were so volatile that it wouldn't have been useful. I'm a fan of planning no more than one step ahead, especially during really formative years like college.
Back to On Deck
From their Careers page:
"On Deck wants to 10x the number of founders building the world-changing companies, by systematically removing bottlenecks to starting up. We're starting by helping talented, ambitious people gain the network and skills needed to build the next generation of great technology companies.
We are building the university of the future."
This opportunity presented itself as an instance of "engineered serendipity", and arose from relationships I'd built with the On Deck team over multiple months because I was genuinely curious about what they were building. I just did an inbox search and counted 25+ emails with the OD team over the past few months before any mention of a job opportunity; it all started with a cold email!
I had sent them a proposal for an On Deck Undergrads program in April after I saw them tweet about it, since I was excited about building aspirational communities for ambitious young people in tech. I then went to an open house, and even though I was bummed to find out I wasn't a good fit for the Fellowship since I was headed into a job, I kept in touch casually and kept jamming on how tech culture could serve more people better.
Let's see how it all went down.
The Weekend that Changed Everything
This summer, I worked with Steve Schlafman— it was awesome. Around the launch of one of my big projects with Schlaf, the High Output Founders' Library, I got a DM from Bhaumik, On Deck's Head of Education, on 7/24:

We started DMing on Friday evening, about our beloved New Jersey/Brooklyn Nets (VC/RJ/Kidd forever), our views on community, educational content and more. We scheduled a call for the next day.
Saturday morning, we got on the phone. The conversation flowed smoothly, moving from Zoom lighting setups, to the Founders' Library, my summer with Schlaf, and even why I was excited about APM.
It was a normal 'first networking call' until he said, "Hey, so I'm probably jumping the gun by telling you this, but if you want to work here, there's a role for you."
Whoa. Not expecting that.
Over the next hour, he shared the vision for the new education business On Deck is building, which was incredibly exciting. I left the conversation speechless; I couldn't turn it down, but how could I pass up APM?
It was hard to sleep the first couple nights— I was so excited about what On Deck was building, but my psyche was somehow tied to Google initially. The idea of the comfort, stability, 'brand name', the ~Google Experience~, the big company compensation; these were all things I'd spent eleven months mentally preparing myself for. At On Deck, I'd be joining as the youngest employee. Could I do it? Was I ready?
Within the next 36 hours, I'd hopped on 1:1 Zooms with David Booth (CEO/Cofounder), Erik Torenberg (Cofounder), Brandon Taleisnik (Head of Ops), and had texted/scheduled with Shriya Nevatia, Julian Weisser, and other team members. I already felt like part of the family. By Monday morning, a job offer was in my inbox. My fears had melted away.
My role: I'm going to help build the future of education at On Deck— I'll be the first hire on this journey, working alongside Bhaumik.
We're going to explore how to build curricula and structure educational experiences to be 10x more fun, effective, and exciting than your typical MBA courseload.

We'll bring experts across the ecosystem to the table to pay it forward for the next generation of aspiring builders and investors.

We'll work on putting together processes and products that'll put your college's software suite to shame and provide an unmatched experience for our fellows, instructors, mentors, and community.

My takeaways from the Weekend that Changed Everything:
I felt really valued in the conversations that I'd had with team members over that weekend, as opposed to being "1/45th of the APM class."

On Deck is a company that's been on my shortlist of places to watch for a while (DM me for what else is on my list);

Near-perfect alignment with my recent discovery of my interests of education and entrepreneurship— feels significant to my ikigai;

The sorts of work I'd be doing in this role are literally the sorts of things I do for fun now, or the things I'd work on as 20%/side projects at Google;

The things that will allow On Deck to succeed and become a billion dollar business (delivering an incredible experience, relentlessness) are well aligned with my skillset and aspirations;

They're walking the walk on diversity and inclusion within tech by increasing access to capital, resources and talent across the ecosystem;

Small team (< 15), with really great people involved/backing the company;

Affords me great opportunities for growth & mentorship from the ODF community;

High growth company with big, world-changing aspirations and mission;
Now the ball was in my court; do I stay with the safe, 'prestigious' Google APM offer, or get on the rocketship?
Behind the scenes: How I thought about the decision
Don't get me wrong— I think Google APM is one of the absolute best opportunities in tech one could have out of school, from both an experience and optionality perspective. I loved my internship, my team, and the amazing people I met as part of the program; some lifelong friends among them, I'm sure.
I was stoked about everything APM, from my prospective manager to the project and the supportive environment that Google creates for APMs.
As I contemplated my choice, I talked to my prospective Google manager, called my closest friends and advisors, and resurfaced all my notes on big career decisions.
My conversation with my Google manager elucidated some fantastic decision factors and outlined some good big company/startup tradeoffs that I think are worth mentioning. I've quoted my personal takes:

How do you measure impact for yourself?
Large companies like Google are great for reaching lots of people, but only at startups do you really have the opportunity to make an impact on the organization.
I find that, for me, being inspired by the people I'm working with is what gets me up in the morning and excited to spend 8+ hours a day in the trenches— not just having X million users using my product/feature.

What kind of thinking excites you and puts you in flow?
For my manager, technical thinking and engineering-focused system design were the exciting parts of her work as a PM. Ops and launch type strategy were less likely to put her in flow.
My role at On Deck is not immediately technical in the first few months. For me, I think having a well-defined group of people I'm serving is what allows me to keep my eyes on the prize and think with focus across multiple functions/disciplines, from the deeply technical to the purely strategic.

Think about what you might have at a big company that you might not elsewhere.
She highlighted code rigor, QA processes, access to internal tools and infrastructure that allow employees to focus on core competencies (e.g. bug-tracking tools, scalable experiments), and highly structured mentorship as examples.
My take on this is that it's probably a hell of a lot easier to go from having to build your own shit at a startup → having great internal tools, than the inverse (imagine losing your third arm), but that's just my take. On the mentorship point, I think the On Deck network is pretty formidable 😉

There's definitely stuff I'm missing out on Google (💸, formalized mentorship, huge scale, etc.), but there's asymmetric risk at a startup— 10x-100x+ upside with only 1x downside.
Learning and growing at On Deck is going to be like drinking from a firehose. But because I see myself being in the startup ecosystem as opposed to a VP at Google, I'm ready and prepared to be a sponge and absorb as much as I can in the thick of things.
I was excited for Google, but I didn't want to be the person who wouldn't leave Google for anything— if there was anything worth leaving for, this would be that thing.
.
.
All in all, the role I'm taking at On Deck is the sort of role I might have envisioned myself taking after a year or two at Google. If the opportunity to accelerate your career the way you imagine was sitting right in front of you, wouldn't you take it too?
Check out what we're building at beondeck.com.
.
.
.
.
.
Acknowledgements
I wouldn't be in this position without the support of my friends, family, and mentors, especially Steve Schlafman. So grateful for everyone who's with me on this ride! My DMs are always open if you have questions about this process, On Deck, new grad PM roles including Google APM, or life more generally! Here's some advice I've compiled over the years.
Footnotes
Things I learned about what I didn't like with each career experience:

Hardware internship at Verb Surgical: Didn't like how slow healthcare is, felt like there was too much time and red tape between my own work and its impact. Basically, I'm really impatient. Was a huge fan of the team and how smart they were!

SWE internship at Cisco: Didn't get along with my team as well as I would have liked; realized that I'm energized when surrounded by inspiring people I can relate to. Also realized I didn't have enough context on why I was building the software/products that I worked on— I needed the answers to "Who's using this? How is it helping them?"

APM Internship at Google: I LOVED this job but the frustrating parts were around difficulties aligning many orthogonal internal incentives and some of the organizational challenges associated with huge companies. Impact was abstracted away to 'user groups' instead of 'users'. Also, my team was great, but the relationships formed in the office were very much 'corporate'.

Apprenticeship with Steve Schlafman: Still processing this one! It was the most transformative job I've had so far; I have more thoughts here!

Resources that I found valuable during this process: