What's Cookin'? Reflections on a Summer with Schlaf
My thoughts on the most professionally transformative eight weeks of my life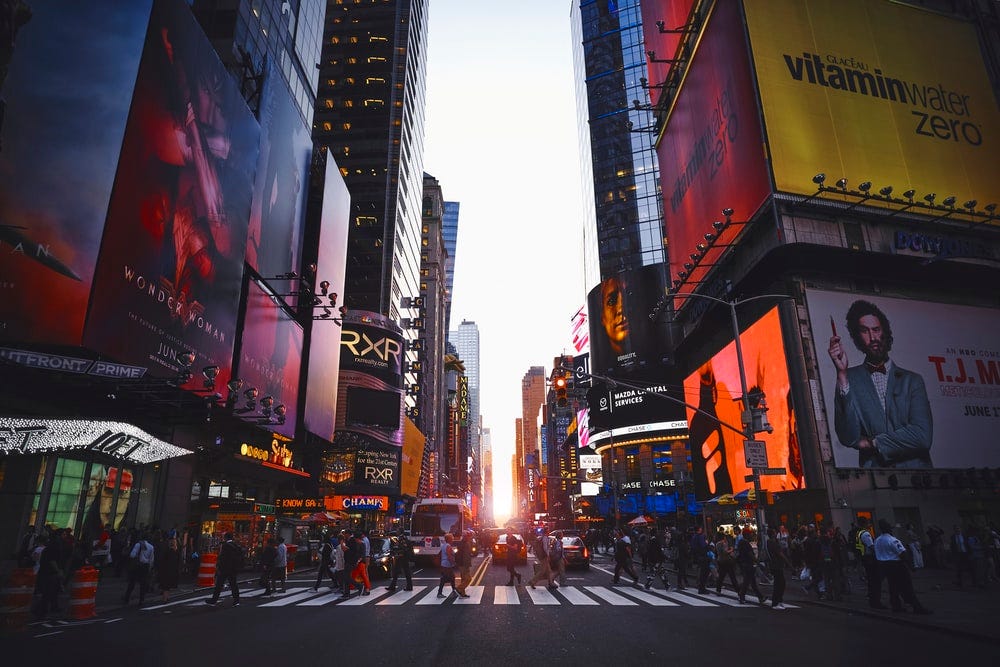 Today was the last day of my apprenticeship with Steve Schlafman. This post will cover a bit of what the summer entailed and the things I learned, but mostly is a testament to the tremendous mentor and consummate professional that Schlaf is.
I'll open with a letter that I wrote to him that encapsulates a lot of how I feel about the summer, and then dive into the nitty-gritty of what I did and learned. I just wish it could have been in the City itself!
I hope the letter can illustrate the sort of impact that a great mentor can have, regardless of whether you're a mentor or mentee. For the tactical part, hopefully it can serve anyone looking to break into or learn more about junior roles in VC.
For context: Steve Schlafman is a veteran in tech + VC who's in the process of spinning up a new leadership development company called High Output, leveraging his expertise as a certified coach and seasoned investor to help leaders achieve their wildest dreams and evolve into extraordinary leaders through coaching and investing. Here's the job I did.
The letter I wrote Steve on my last day
Hey Schlaf!
What's cookin'? That may just be the one phrase I steal from you from this unforgettable summer. Maybe "What does this become?" as well.
It'd be difficult for me to fully express how formative this summer has been in shaping my perspectives on leadership, teamwork, mission, friendship, the startup ecosystem, and my relationship with work more generally. Nevertheless, I'm going to try.
I'm so incredibly appreciative for the opportunity to have ridden shotgun with you this summer.
Even though we only spent eight weeks working together, it easily feels like eight months in how much I've learned and grown, and eight days in how fast it's passed. I really don't think you could have hit the nail on the head any harder when you outlined your motivation for opening this role up:
Earlier in my career, I was fortunate to work for some remarkable leaders and mentors. These people and opportunities truly changed the trajectory of my career. My hope is that this role will prove the same for whoever is selected. I intend to pay it forward.
At the beginning of the summer, I was still trying to find my footing in the startup ecosystem, had barely a hundred Twitter followers, and was looking for an engaging way to spend my summer in quarantine. Now, I truly have a deeper sense for the grit, sweat, vision, and drive needed to forge and grow a business, not to mention amazing parts of working on a team of two, and a really unique perspective on how to think about companies, founders, markets, and relationships that bridge the professional and personal.
From the jump, I immediately appreciated and embraced your fully open, candid, and honest work style, and hope to take it with me going forwards. As soon as I saw the sorts of questions that you were asking in the User Manuals, I was excited by the sort of relationship we'd build and the mentorship I'd receive as a fly on the wall and a bug in the weeds over the course of the summer. Completing that manual has honestly been one of the most influential things I've done in terms of understanding myself and breaking through some barriers around communicating my work style and forming relationships with coworkers. I now use it as a way of introducing myself, wholly, to everyone from my closest friends to loose acquaintances.
Being a party to your integrity and your passionate, thoughtful demeanor in interacting with everyone you touch has been inspiring, rejuvenating, exciting, and fundamentally changed how I look at my work. There's not enough thank you's I could say for the mentorship you've given me and the agency and autonomy that excited and fueled me through the various projects, deals, explorations, and learning, unlearning and relearning we both tackled this summer.
I'm stoked at what's to come for each of us and consider you one of my most trusted advisors and friends— the first member of my personal BoD. You're the first person in this part of the tech world who took a chance on me— that means a ton and won't be forgotten. I'm sure our paths will weave together over time, and can't wait to see where this journey takes us.
Thank you, Schlaf.
Ok, ok, the sappy stuff is over. Let's dive into how it went down.
Getting the job
Honestly, I wasn't supposed to have done this apprenticeship. I was planning on traveling this summer after graduating from Duke, but the world had other plans. As I was scrolling through Twitter, I saw Schlaf's tweet announcing the opportunity to his >40k followers. I was intrigued. A unique opportunity to be basically 1:1 with one of the most well-respected minds in VC? No-brainer.
College was wrapping up and I had some free time, so I put in a bit of effort over the course of the weekend (probably 4-6 hours) and put together an application I was proud of. My take on this sort of thing is if I'm not willing to spend a few hours getting/applying for the job, why the hell would I be willing to spend 40+ hours a week working on it? In that respect, I choose a relatively small set of opportunities that resonate with me to pursue and go really hard to show my stuff for them.
(I completely acknowledge that this is a privilege I'm able to have since I've already had my 'foot in the door' in tech; if you're still looking to make the breakthrough, here's my advice, or feel free to reach out on Twitter!)
In the couple of interviews we did, Steve asked about why I was excited about the role, what kinds of work I enjoyed, and I did a small sample assignment (~1-2 hours) of supporting diligence for an investment opportunity he was looking at. He cited my "get shit done" mentality and willingness to ask questions as reasons he brought me on, and I'm incredibly happy he made the choice he did!
What I did and what I learned
I'd never been exposed to VC first-hand before, so a lot of this was new. I didn't know what diligence was, how deals were sourced, how pitches went down, or basically any of the back-office operations of an investment practice. Quickly, I was brought up to speed on all of this and more. I can break my work into three main pieces and I'll briefly discuss each section.
Investing
I was involved in most of the leads that Schlaf saw this summer in these capacities:
I managed the investment pipeline in Notion, tracking new opportunities, compiling notes, decks and diligence, and thoroughly understood what it took for an opportunity to move forward (here's a deck I adapted to this!)

I'd run diligence on companies, from looking into suppliers to running competitive analyses to hopping into a Testflight and playing around with my product and engineering-native mindset to try to understand where the strengths and weaknesses of a company lie.

I sat in on pitches from first call to close, closely listening to founders talk about their visions and asking questions about their markets, motivations, and traction. After pitches, I'd debrief with Schlaf and we'd challenge each other to prove why an opportunity or team was promising— or not.

I drafted + revised memos for investments we decided to make, and some pass emails for the ones we couldn't fund, to send to LPs and founders, respectively.
These experiences gave me deep practice in fundraising communications and decision-making, understanding the nuance required to explain both positive and negative decisions.
Sitting in on pitches and meeting founders was the most exciting and inspiring part of the summer for me; there's so many incredible people building their own visions of the world, and being even a small part of their journey is so exciting.
No matter how much I hear it, it continues to ring true: turning down founders is the hardest part of this industry.
Digital Media Strategy
As High Output itself is a new company, there was a lot of strategic work I took part in:
Leading creation of the High Output Founders' Library, my biggest public deliverable. It blew up on Twitter, and will hopefully serve founders for years! (here's how I built it!). We also were #2 on Product Hunt! Huge thanks to Chris.

Creating and refining templates for cold emails, investor updates, and more to support the aforementioned Library. Lots of fun digging into what the most important info for founders and investors to know is during a fundraise

Determining what platform to use for Schlaf's personal website (I settled on Ghost) to serve as a home for his writing, email list, and an online intro of sorts. I then executed the end-to-end execution of launching this site.

Contributing to the visual identity and branding process, where we engaged with a fantastic designer to set the visual feel for what High Output will become and what the brand assets and design system should communicate.

Starting to 'work in public' more and sharing my own learnings and findings throughout the summer— it's really helped my personal Twitter game 😅, and helped me understand what resonates with people in the ecosystem and how exciting conversations start on platforms like Twitter and Substack.
Content and its effective distribution is the new gold as the attention and passion economies grow. Figuring out how to position your message to reach the relevant people has been an invaluable lesson— it's more about intention than anything else, I've learned.
Odds and Ends
Stuff I really enjoyed but doesn't really fit into one of the above categories:
Working on a two person team was an experience I'd unequivocally recommend. The ways that a team of two has to communicate openly and has each others' ear is so unique. One of the most valuable exercises I've ever done is complete my own Personal User Manual and read Schlaf's; it's so helpful for understanding yourself and also appreciating your teammates as more than just co-workers.

General Notion wizardry: I've come to love the tool even more than I did coming in (hard to believe, right?)— I did a reorg of the company's Notion workspace to make a manageable "Schlafboard" that surfaces the most important projects and tasks on comprehensive dashboard. Any small or growing company owes it to itself to maintain a comprehensive knowledge base to save on time-wasting emails, texts, or Slack messages.
Looking back, there hasn't been a better experience I could have had over the past two months. The letter at the top sums it up well, so if you haven't read it yet, head back to the top and check it out :)
To follow along with what's next for me, hit that subscribe button and check out my Twitter!